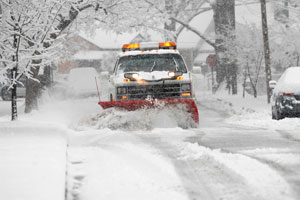 Put your shovel away and trust RJM to have your driveway or lot free and clear of snow all winter long. Our fleet of snowplow trucks hit the road early, and give you the peace of mind knowing you're not going to be digging yourself out of a snow drift before heading off to work!
We offer affordable rates for all of our snow plow services. We handle commercial and residential snowplowing.
Why pay for snow removal in Cherry Hill NJ when you can do it yourself?
It's a valid question, but think about this…
Time spent shoveling or snow blowing could be better spent doing other things.
11,500 people in the U.S. are treated at hospitals each year due to snow shoveling-related incidents, according to a 17-year study published in the American Journal of Emergency Medicine (2009).
Snow blowers have running costs and maintenance expenses that can become a hassle for some people.
It's cold! With average low temperatures in Dec. to Feb. dipping down into the 20's, why brave the cold when you don't have to?
Snow removal service from RJM is an investment well spent. We provide service to homeowners and businesses in Camden, Cherry Hill, Pennsauken, and surrounding communities.
Give us a call today to lock in the lowest rates of the season!
Call (856) 456-1052 for affordable snow removal service