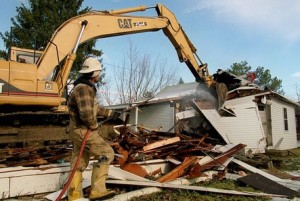 If you need structural or concrete demolition services, RJM is here to help. We're the most affordable and efficient demolition contractor in the area; our services include, but are not limited to concrete removal, structural demolition and pool removal.
RJM is a fully licensed, bonded and insured Cherry Hill demolition contractor serving the surrounding areas of New Jersey since 1988. We are equipped to handle most types of light commercial demolition. Our service includes the tear down, clean up and site prep (if needed).
We employ various demolition techniques completely customized to the situation. For instance, we utilize manual demolition techniques for interior demo projects, while bigger structural demolitions are handled quickly and safely using excavators, skid steers and cranes.

RJM is the premier Cherry Hill demolition contractor throughout New Jersey
We go the extra mile for our customers. We're a local company that takes pride in delivering top-notch demolition services to the people in our community. We offer:
Affordability — Structural, interior, concrete and pool demolition services at the lowest prices around.
Accuracy – We take great care in ensuring adjacent structures are safe during the demolition.
Speed – From start to finish, we'll get the job done fast and efficiently without sacrificing safety.
Unmatched service – Expect friendly, professional service from all of our staff and crew.
Guaranteed customer satisfaction – We're not happy until you are, so we'll do what it takes to ensure you're satisfied with the job.
Call (856) 456-1052 for a free demolition estimate