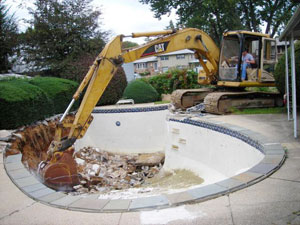 Swimming pools are expensive to maintain. In fact, a report by the Wall Street Journal points out maintenance costs for the average inground swimming pool can run anywhere from $3,000 to $5,000 a year.
Let RJM take care of that money pit in your backyard; we are New Jersey's swimming pool removal experts!
RJM Services has the equipment necessary to properly remove above-ground and inground swimming pools. We've been serving Camden, NJ and surrounding areas since 1988 with affordable pool removal in Camden and demolition services.
How a typical inground pool removal in Camden project is done
The pool is drained, and access to the pool area is gained. For heavy equipment (e.g., an excavator) to get to the pool area, this may involve temporarily taking down fences or removing foliage.
If the pool is made from concrete or gunite, heavy equipment is used to break it up and remove it. If the pool has a fiberglass or vinyl liner, it is removed as well.
There are two pool removal options: Complete removal or partial removal. All the debris is removed during a complete pool removal leaving just an empty hole, while a partial pool removal consists of breaking the concrete or gunite into small chunks and piling dirt on top of it. Call us to determine the best route for you.
The hole is filled in with fresh dirt, leveled, and new seed or sod is applied (if necessary).
RJM uses proven techniques to demolish and remove swimming pools efficiently and safely. The process is fast and affordable. Get your backyard back; we'll help make that happen!
Call (856) 456-1052 for a free pool removal quote